At Italia, the focus has always been, and always will be, on the technical side of machine ownership. The workshop is a central and integral part of our shop. We want the machines right, so you enjoy them more and keep coming back for more. The workshop is friendly, personal and approachable.
At Italia, your satisfaction and your safety are paramount to us. Which is why we do not cut corners. We lovingly prepare each and every machine as if it were ours. At the Pre-Delivery-Inspection point, we do not just perform the bare minimum procedure. No, years of experience have taught us what to look out for and what little problems we can pre-empt from day one. So, without giving away any of our secrets, suffice it to say that a new Ducati machine from us will be prepared to an immaculate standard.
Our technicians are all factory trained. They are trained to know your Ducati inside out, every nut and bolt. They are all au fait with all the latest technologies and procedures and have, at their disposal, all the very latest tools, equipment, diagnostic equipment and all the latest updates. Just as important, they have a wealth of priceless knowledge on the older machines too, knowledge that has been accumulated over the many years of experience our service team can boast. Even more importantly, they care. And that is priceless. All our technicians take immense pride in the quality of the work completed in the workshop. They like being the best and they will not let anything beat them. Nothing leaves the workshop until we are 100% satisfied with the result, whether it is a £40000 Desmosedici RR, or a pre-owned, £2500 Monster 600, or even a simple tyre change / chain tension job. Which is one of the reasons why, on every machine we work on, once the technician has completed the job, another technician then checks the machine over, casting a critical eye, especially with any safety-related items.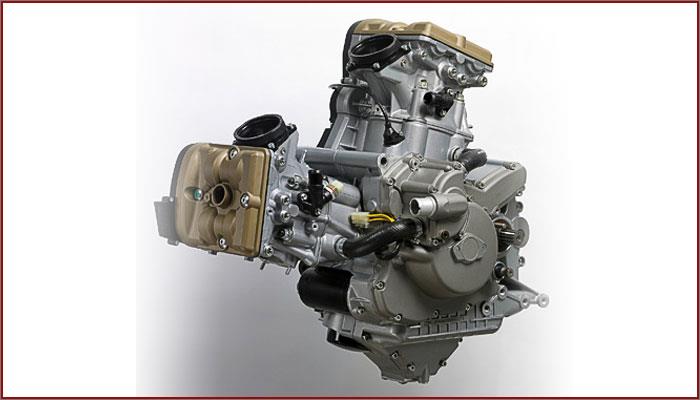 From the 2007 model year onwards, all new Ducatis benefit from a revised maintenance schedule giving more competitive service costs, alleviating one of the historical misconceptions that they are prohibitively expensive to run. The factory have invested heavily and improved the quality of supplier standards, and made changes in production which means that the number of operations necessary in the service schedule have been reduced. The schedule now only contains the operations required at the appropriate time or mileage. The intervals have been increased from 6000 to 7500 miles. This saves the Ducati rider money and reduces time in the workshop, so you have more riding time.
Even before this revised schedule came into play, Ducatis were never as expensive to maintain as some doubters would have you believe. We have had many people through the doors in the past contemplating Ducati ownership, but that have been positively petrified by some of the rumours that they have heard. Rumours like, "They need the cam belts replacing every year, and that it's an engine out job to change the belts, and that the belts alone are £800". I'm sure that, if that were true, then Ducatis would be the preserve of the very rich. However, the reality, as ever, is far removed from these far-fetched rumours. On most models, we change the cam belts every two years or 15000 miles, whichever comes first. Usually, the belt change will be incorporated into the service. However, even if a bike appeared just for the belt change, you'd be looking at the cost being about 15% of what the scaremongers had quoted, including the parts, labour and vat. The fact that Ducatis employ cam belts as opposed to chains is really about the only thing that is different on a Ducati engine. The belts are quiet in operation, and changing them is a much quicker and easier affair than attempting to change a cam chain. The only other item that is dramatically different on a Ducati engine is the other thing that fills the doubters with panic....Desmodromic valve operation. Mmm, a moniker sure to fill all the self-appointed experts with fear. Fear because they cannot understand, or fear due to the technical superiority of this system?? Desmodromics can be studied in greater detail elsewhere. The main advantage is superior valve control at high revs. To allow this, as opposed to a poor spring having to snap the valve closed, desmodromics positively and accurately close the valve. So the only difference to a more "conventional" system is that, on each valve, there are two clearances to check / adjust. Simple as that!! So, the desmodromics are no more complicated, just a little more time-consuming. The advantages of the system more than justify the effort.
So, as far as technicalities go, an engine is an engine and any good technician worth his salt can soon find his / her way around a Ducati engine. It has bearings / pistons / con-rods the same as any other engine, so what is there to fear? As with any engine, it asks only that you have the oil and filter changed at the required interval, replace / clean the spark plugs as required and the valve clearances checked and the cam belts replaced when required. No great secrets and no nasty surprises.
As regards the maintenance schedule, this can be tailored to your specific requirements and budget. Bikes up to 2006 model year are quoted as having a 6000 miles / 1 year interval. Bikes from 2007 model year onwards benefit from a longer interval (7500 miles / 1 year) and a reduced requirement and will prove even more cost-effective to service. The quoted intervals do not tell the full story....Some items on the schedule are time-related and other operations are mileage influenced. For example, only the most scrooge-like owner would deny his engine an oil and filter change every year. Even on low mileage machines, this should be performed, to clear away any contaminants from condensation issues and the resulting acid deposits in the oil. To briefly sum-up...Oil and filter every year (unless you are covering more than either the 6000 or 7500 miles mark). Cam belts, replace every two years. Hydraulic fluids and coolant, every two years. We tend to check and perform a fuel-injection system set-up at each service. Brakes, strip, clean and re-lube every year. Mileage-influenced items are the valve clearances (6000 or 7500 miles, depending on year of manufacture) and replace the fork oil (12000 or 15000 miles, again, dependant on year of manufacture).
As previously mentioned, the maintenance schedule is best personalised to you and your machine. For example, a keen track-day addict will appreciate the extra workload asked of the engine oil, and would be best advised to change the oil more frequently than indicated by the factory schedule. We know of people who will have the oil changed at 1500 miles because of this. If you love your machine, you want to keep it properly maintained. Some people will ask for us to change the belts every year also due to lots of track abuse. It's up to the individual. Peace of mind is priceless. Even caring owners of Japanese machines will have their machines serviced more often than quoted in the manual if they love their machines and they know that they are subjecting their machines to a harsh workload. The ones that make you chuckle are the ones that bring a bike in for potential part exchange....It's five years old, it's only covered 3500 miles and the only service it's ever had is its first running-in service. It should have had four or five oil and filter changes. Do they love their machines? Do they care about its longevity? Do they care about their own safety?
When you come to discuss getting your own machine serviced, we will endeavour to check its history to date, so we can bring it right up to date. Sometimes, this can save the customer a lot of money. For example, let's say you own a 2004 999 and it's coming due its 12000 service. If the schedule has fallen out of synch a little, you don't want to be re-performing jobs that are not actually due. So, if it had the belts replaced one year / 2000 miles ago, it will NOT need them doing this time around, saving you money. So, although the belts are listed as needing replacing on this service, it does not always automatically follow that they actually need doing. Only performing what actually needs doing saves the customer having to pay more than he needs to, reducing his running costs and instilling loyalty and repeat future business.
For sure, you want the very best people looking after your pride and joy. You wouldn't take a Ferrari to a Kia dealer, would you? You want people who are fully trained and conversant with your Ducati looking after it. But then, that will cost a fortune, won't it? PROBABLY NOT.....Our labour rates are very competitive. In fact, on closer examination, very often our rates are actually LOWER than a lot of Japanese bike dealers. We're not saying it's cheap, but it is cost effective. You get what you pay for in life. Most of our customers will ride away from the shop, even after picking up the tab for a major service, satisfied. They have seen how much time, love and attention has actually gone into the job and do not mind paying a reasonable amount for a job well-executed. Bear in mind that, with a lot of Japanese machines, an awful lot of dealers will not perform the required extensive service, in fear that a lot of owners will be unwilling to pay for the work, so they often just carry on giving these machines little oil and filter services. What they seem to fail to realise is that people who love their machines want them serviced correctly, they want the peace of mind, and they do not mind paying a fair price for that service and peace of mind.
If you own a masterpiece that is every Ducati, you want to care for it and entrust it to people who share your passion and your love and respect for your machine. They are special, aspirational machines, deserving of the utmost care and attention. Care and attention which we provide.